Area Attractions
Gatlinburg and Pigeon Forge Attractions
With so many great things to do in the Smoky Mountains, throughout Pigeon Forge and Gatlinburg, there's no doubt that you'll want to set up a vacation itinerary. Check out our Smoky Mountain attraction tickets for deals on the most popular Smoky Mountain activities!

Ober Gatlinburg
865-436-5423
https://obergatlinburg.com/
Ober Gatlinburg is your one stop for family fun! During the winter, hit the slopes for hours of skiing, snowboarding, and tubing. In the summer, keep cool on the attraction's water rides. Ober is home to rides, shops, dining, and more! Ski Area & Amusement Park, 1001 Parkway Suite 2, Gatlinburg TN, 37738.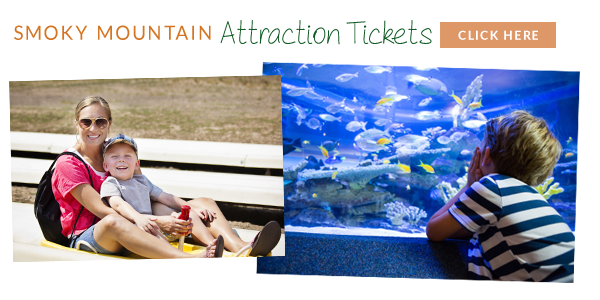 Restaurants
The Great Smoky Mountains area offers a wide range of restaurant options from national fast-food chains to full-service restaurants. Following is a list of a few of the best places to eat! Whatever your appetite desires and whatever your budget allows, you are sure to find several of your own "favorites" from everything our local restaurants have to offer.
The Peddler
865-436-5794
https://peddlergatlinburg.com/
The Peddler takes pride in being the #1 recommended dining experience in the Smokies. Naturally, aged steaks are cut tableside to your specification. Our menu also offers fresh Mountain Trout and Marinated Chicken along with other delicious entrees and a generous, fresh salad bar. Children's meals are priced at 1/2 times the child's age. Free Parking. 820 River Road, Gatlinburg, TN.
Alamo Steakhouse
865-436-9998
www.alamosteakhouse.com
Locally owned and operated for 14 years! Voted Best Steaks Five Years Running! Serving black Angus steaks, prime rib, seafood, and chicken. Specialty lunch sandwiches. Kid's Menu. Beer, wine, and cocktails. Private banquet rooms. Free Parking. Two locations: 705 E Parkway. Gatlinburg, TN. 865-436-9998 and 3050 Parkway, Pigeon Forge, TN 865-908-9998.
Bennett's Pit Bar-B-Que
865-436-2400
https://www.bennetts-bbq.com/
Locally owned and operated for over 20 years! Voted Best Ribs and BBQ. Hickory smoked Bar-B-Que beef, pork, chicken, ribs, grilled steaks, and shrimp. Salad bar and homemade soup. Extensive Kid's Menu. Beer, wine, and cocktails. Breakfast Buffet. Friendly service. Free Parking. Two locations: 714 River Road, Gatlinburg, TN (behind the Tramway) 865-436-2400 and 2910 Parkway, Pigeon Forge, TN 865-429-2200.
Best Italian
865-430-4090
https://www.bestitalian.com/
A 30-year Gatlinburg tradition featuring our famous "Garlic Rolls", "The Best Pizza", plus all your favorite Italian dishes. Open daily. Limited Free Parking. Two Gatlinburg locations: Elks Plaza across from TGI Fridays on the Parkway and in the original location of the Brass Lantern in the central walking district.
Buckhorn Inn "Dinners"
865-436-4668
https://www.buckhorninn.com/
Our mouthwatering menus and welcoming dining room offer the perfect setting for an elegant and romantic evening. Served every day at 7:00 p.m., our four-course dinners are beautifully prepared and presented as a feast for the eyes as well as the palette. Free Parking. Reservations Required. 2140 Tudor Mountain Road, Gatlinburg TN.
Calhoun's
865-436-4100
https://calhouns.com/
We are famous for our Award Winning barbequed baby back ribs. Other specialties include steaks, prime rib, grilled chicken, barbeque, catfish, salads, and sandwiches. And have we mentioned our award-winning hand-crafted micro-brewed beers prepared by our very own brewmaster? Open-air, heated patio, full-service bar, banquets and catering, meeting rooms. Kid's Menu. Free Parking. Located between traffic lights 8 & 10 in Gatlinburg. 1004 Parkway, Gatlinburg, TN 37738 865-436-4100 and 2532 Parkway, Pigeon Forge, TN 865-868-1500.
Cherokee Grill
865-436-4287
https://cherokeegrill.com/
Gatlinburg's premiere casual steakhouse offers dining in an attractive mountain lodge atmosphere. Specializing in quality steaks, fresh fish, seafood, and rotisserie chicken. We also have an extensive list of appetizers, sandwiches, and salads. Kid's Menu available. 1002 Parkway, Gatlinburg, TN. Free Parking.
Hungry Bear BBQ
865-325-1084
BBQ Restaurant serves fresh cooked Beef Brisket, Pork, Ribs, and Chicken. We also feature homemade fixin' – potato salad, coleslaw, baked beans, etc. Dine-in or Carry out. Rated 4.5 stars by Trip Advisor. Two locations: 2263 East Parkway, Gatlinburg, TN 37738 865-325-8173 and 490 East Parkway, Gatlinburg, TN 865-325-1084
Pancake Pantry
865-436-4724
http://www.pancakepantry.com/
Since 1960 when the Pancake Pantry became Tennessee's first pancake house, visitors to Gatlinburg have made dining with us a tradition. Whether you join us for an early breakfast, midday brunch, or afternoon snack, your visit will be enhanced by the warm atmosphere of century-old brick, fast, courteous service, and delicious food, all at a reasonable price. 628 Parkway, Gatlinburg, TN.
Park Grill
865-436-2300
https://parkgrillgatlinburg.com/
Family-friendly, affordable dining in a contemporary mountain lodge. Children 12 and under eat for $1 times their age. Hickory grilled steaks, fresh mountain trout, and moonshine chicken. Bring your group! Enjoy generous portions of specially prepared all-American fare as featured in SOUTHERN LIVING MAGAZINE. The Park Grill also has a full-service bar with an extensive wine list. Free Parking. 1110 Parkway, Gatlinburg, TN 865-436-2300.
Smoky Mountain Brewery & Restaurant
865-436-4200
https://smoky-mtn-brewery.com/
Described as a cross between a ski lodge and a Bavarian beer hall, the Smoky Mountain Brewery features an enclosed deck overlooking Calhoun's Village with the Smoky Mountains in the background. We feature an On-Site Microbrewery. Lodge atmosphere, unique restaurant, featuring wood roasted steaks, entrees, pizza and calzone, fresh-baked bread, sandwiches and burgers, a large selection of appetizers, handcrafted beers, and brewery souvenirs. Free Parking. 1004 Parkway, Gatlinburg, TN.
Three Jimmy's A Good Time Eatery
865-325-1210
https://threejimmys.com/
Three Jimmy's is a "local's favorite" full-service restaurant and bar serving fantastic, fresh homemade food. 11am-3pm, and dinner 5pm-10pm, and featuring live entertainment, Free Wi-Fi, and Covered Outdoor Patio Dining. Free Parking. Lunch Specials Mon-Fri. Located at 1359 East Parkway, Gatlinburg, TN at Traffic Light 3-A, Behind Family Dollar.
Whole Earth Grocery Cafe
865-436-6967
https://www.wholeearthgrocery.com/
Whole Earth Grocery is a complete natural foods store and cafe. Our menu features many vegetarian and vegan selections available for dining in or carrying out. Our grocery is a complete natural foods store offering a variety of organic foods, seasonal produce as well as the highest quality herbs, vitamins nutritional supplements, aromatherapy, and so much more. 446 East Parkway in Winery Square, Gatlinburg, TN.