Top Reasons Our 1 Bedroom Cabins in the Smoky Mountains are Perfect for a Romantic Getaway
If you have ever heard the expression that "love is in the air", this is certainly the case in the Smoky Mountains! There is just something special about the Smokies that brings couples back time and time again, and there is no better place to stay than at Smoky Mountain Chalet Rentals! Whether you are celebrating a new love, anniversary or other special event, our charming cabins have everything you need for a fantastic vacation. Check out these top reasons why our 1 bedroom cabins in the Smoky Mountains are perfect for a romantic getaway:
1. Secluded Locations in the Woods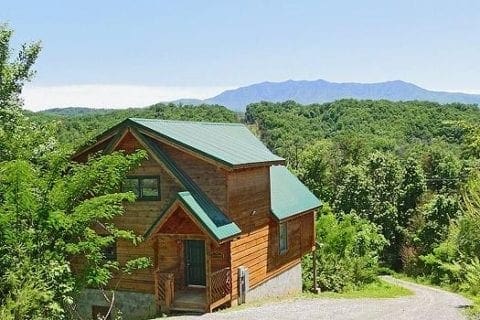 Couples love spending time at our secluded cabin locations where they feel completely isolated from the rest of the world! Although our cabins are just a short drive from the popular sights and attractions of the Smokies, they are situated in beautiful settings with views of the woods and the mountains. Wake up to the wonderful sights and sounds of nature such as birds chirping or squirrels scrambling up trees.When the sun sets in the evening over a mountain peak, the night sky comes alive with thousands of twinkling stars. There is just nothing more romantic than sitting together on your private deck to enjoy the peace and serenity of the mountains!
2. Wonderful Amenities to Enjoy
Our 1 bedroom cabins in the Smoky Mountains include a wonderful selection of amenities for you to enjoy with your sweetheart! Imagine relaxing together in a bubbling hot tub while you inhale the fresh mountain air. Take a dip in the morning to start your day or soak your muscles after a day of hiking through Great Smoky Mountains National Park. Our cabins also feature fireplaces to create the ultimate romantic ambiance! Cuddle on the couch as the dancing flames and crackling sounds of the fire provide a wonderful background to your evening. If you feel like watching a romantic movie together, tune into the cable television or bring a favorite DVD from home!
3. Full Kitchens with Modern Appliances
All of our cabins feature full kitchens with every appliance and convenience necessary to prepare a delicious meal for your loved one! Surprise your sweetheart with their favorite meal and dine in the comfortable dining area or on your cabin's deck. If you prefer to dine out and sample one of our local restaurants, you can easily store any leftovers in the full sized refrigerator. You can also start each morning with breakfast in your cabin so that you can be quickly on your way to explore Gatlinburg, Pigeon Forge and the rest of the Smoky Mountains. As an alternative, sleep in late and spend the afternoon relaxing in the cozy atmosphere of our cabins. Whenever you feel hungry, simply step into the kitchen to grab a snack or to cook up a tasty meal!
Check out all of our 1 bedroom cabins in the Smoky Mountains today to plan your romantic getaway to the Smokies! We look forward to seeing your soon at Smoky Mountain Chalet Rentals!