Top 5 Benefits of Staying in Our Pet Friendly Cabins in Gatlinburg TN
When taking a vacation to Gatlinburg, there is no need to leave your favorite furry companion at home! Smoky Mountain Chalet Rentals is pleased to offer pet friendly accommodations in all of our 1 and 2 bedroom cabins in Gatlinburg! While staying with us, you and your pet can enjoy all the comforts, amenities and conveniences that have made our cabins so popular with guests! Here are the top 5 benefits of staying in our pet friendly cabins in Gatlinburg TN:
1. Avoid Kennel Costs and Concerns
When leaving your pet in a kennel in your hometown, the costs can quickly add for each day of your vacation! When bringing your pet to Smoky Mountain Chalet Rentals, you can save on these costs, and your pet will be much happier by your side! This also allows you to enjoy your vacation without the stress and worry of leaving your pet in an unfamiliar location for an extended period of time.
2. Relax with Your Pet
We know that pets are considered part of the family too, so we are sure that you will love relaxing with your pet in the comforts of your cabin! Whether you are watching a favorite television program on the cable TV or kicking back outside on the deck, you will enjoy the company of your beloved pet. Your furry friend will also be happy to spend time with you rather than being left at home in the hands of a pet sitter.
3. Enjoy Pet Friendly Hiking Trails
We know that you will want to get some exercise for your pet while staying at our pet friendly cabins in Gatlinburg TN, so head out to the Gatlinburg Trail! This scenic walking trail is just minutes from Smoky Mountain Chalet Rentals and is one of just two walking paths that allows dogs within the Great Smoky Mountains National Park. The trailhead is on River Road between Ski Mountain Road and the Gatlinburg Parkway, where it travels for 1.9 miles one way to the Sugarlands Visitor Center.
4. Convenient and Fun Cabin Amenities
Our pet friendly cabin rentals have all the convenient and fun amenities that you would expect to find at any of the cabins from Smoky Mountain Chalet Rentals! Each cabin features a full kitchen where you can prepare meals, store beverages and provide fresh water for your pet. Our cabins also feature decks with scenic views, bubbling hot tubs and lots of other fun features that you will enjoy throughout your vacation!
5. Affordable Rates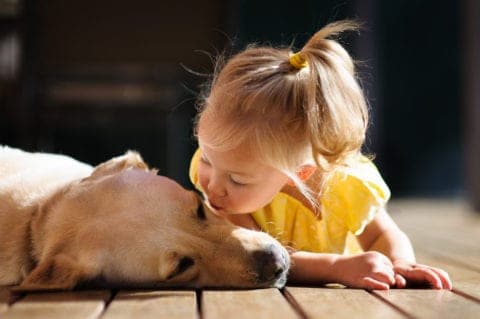 We are pleased to offer our pet friendly cabins in Gatlinburg TN at affordable rates so that you don't have to spend a fortune on your vacation! We only ask that our guests pay a nominal pet fee for each pet while staying at Smoky Mountain Chalet Rentals. If you want to make your Gatlinburg vacation even more affordable, be sure to check out our latest Gatlinburg cabin specials!
Check out all of our 1 bedroom and 2 bedroom pet friendly cabins in Gatlinburg TN today! We look forward to seeing you and your pet soon at Smoky Mountain Chalet Rentals!