5 of the Best Steakhouses in Gatlinburg You Will Love
If you're in the mood for some mouthwatering steak, you've come to the right place. Gatlinburg is home to numerous steakhouses, all serving tender and flavorful options that your taste buds will thank you for! To help you make the most of your dining experience, here are 5 of the best steakhouses in Gatlinburg that you are sure to love.
1. Cherokee Grill and Steakhouse
Cherokee Grill is Gatlinburg's premier steakhouse that offers an upscale mountain lodge atmosphere. Kick off your meal with one of their delicious starters like the Fried Calamari, complete with Asiago, marinara, and mustard sauce. From burgers and sandwiches to fried chicken and of course, mouthwatering steaks, you can't go wrong with any of the main courses there. You can even stop by during happy hour for discounted wines and microbrews, which is Monday through Friday from 4 p.m. to 7 p.m.
 2. Alamo Steakhouse
Another one of the best steakhouses in Gatlinburg is the Alamo Steakhouse! Their aged steak is hand-cut and seasoned in-house before being grilled over an oak fire to sear in all the juices. This process makes for some of the most tender and delicious steaks in the Smokies! They also grind their own burgers and make all of their own soups, sauces, and gravies. Whatever you order there, you can count on it being of the freshest quality.
3. The Peddler Steakhouse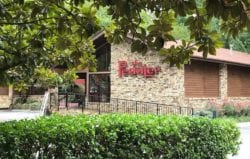 Located near the entrance to the national park, The Peddler Steakhouse is the perfect place to go after a long day of exploring the Smokies! All of the entrees there include access to a fresh salad bar, as well as your choice of a side and oven hot bread. Their steaks are hand-cut to order at your table and then grilled over real Tennessee hickory charcoal!
4. Howard's Restaurant
As Gatlinburg's oldest restaurant, Howard's Restaurant has been a favorite among locals and visitors alike for many years. Their Extreme Appetizer Platter can be either an entree or a dish for you and your family to enjoy before your meal. It comes with onion rings, chicken tenders, mushrooms, catfish bites, mozzarella sticks, potato skins, and buffalo wings. Of course, you can always get one of their flavor-packed steaks, served with your choice of 2 sides and a salad.
5. Crystelle Creek Restaurant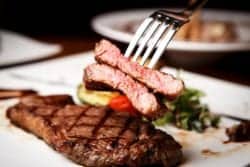 Enjoy your next meal with a gorgeous view when you visit Crystelle Creek Restaurant. This eatery is known for serving some of Gatlinburg's finest steak and trout dishes among many other menu options. True to its name, Crystelle Creek is surrounded by a sparkling creek with beautifully landscaped grounds and a Coi pond. If you visit in the evening, you'll even get the chance to see their 150-foot tree twinkling in the dark with cascaded lighting.
Where to Stay
You shouldn't have to drive long distances to get to the best steakhouses in Gatlinburg, especially when you're already hungry! Instead, you can stay close to all the best spots to grab a bite in one of our cabin rentals in the Smokies. Each one comes with all the comforts of home, as well as luxury amenities for you and your loved ones to enjoy.
Now that you know all about the best steakhouses in Gatlinburg, it's time to start planning your trip! Be sure to check out all of our Smoky Mountain vacation rentals so that you can stay close to all the best places to eat, shop, and be entertained.