Top 6 Free and Affordable Things to Do in Pigeon Forge and Gatlinburg
We know you want to get the most out of your vacation while saving as much money as possible. That's why we have put together a list of free and affordable things to do in Pigeon Forge and Gatlinburg just for you! From enjoying nature to spending quality time together doing a fun activity, you'll be having such a great time, you'll forget what you are doing is free or affordable! Check out these top 6 free and affordable things to do in Pigeon Forge and Gatlinburg:
1. Watch Candy Be Made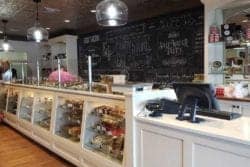 Pigeon Forge and Gatlinburg have quite a few old fashioned candy stores where customers can enjoy watching candy makers at work. Watch taffy being pulled or caramel apples being dipped in delicious candy. The Old Mill Candy Kitchen in Pigeon Forge has glass walls up in their store so you can easily watch what they are doing. Ole Smoky Candy Kitchen in Gatlinburg has huge windows where you can look in and watch them make taffy. If you watch long enough, you might just wander inside and want to try some of the treats!
2. Walk Through Patriot Park
Patriot Park is a pretty park with a walking path that follows along the Little Pigeon River. Bring a blanket and enjoy watching ducks swim in the water, or bring some food and enjoy a picnic together in the shade of the trees. Your whole family will love being outside at Patriot Park!
3. Explore the Gatlinburg Arts and Crafts Community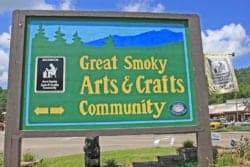 The Gatlinburg Arts and Crafts Community is a really cool place to visit. There are all kinds of artists and craftsmen with stores you can visit and even watch them do their craft. Find beautiful hand carved wooden pieces, jewelry, iron decor, paintings, and much more. You don't have to buy anything, but you might just see something you want to bring home with you!
4. Play at Mynatt Park
To spend even more time outside, you can play at Mynatt Park! Your kids will love playing on the playground and swinging on the swings. Bring a picnic to enjoy by the creek or at a picnic table. You can even walk around the paved track to get in some exercise. Whatever you decide to do, you'll enjoy being outside!
5. Play a Round of Mini Golf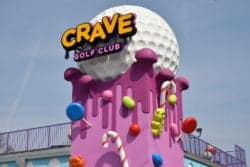 If you're looking for affordable things to do in Pigeon Forge and Gatlinburg, playing mini golf is definitely one of them! You have so many choices of where you can go. Play at Crave Golf Club for a dessert theme. Professor Hacker's Lost Treasure Golf will take you on an adventure. Hillbilly Golf makes you feel like you're in the middle of the mountains. For a few options at one place, go to Gatlin's Fun Center where you have two outdoor courses and a blacklight indoor course.
6. Try Alcohol Tastings
On a trip with your friends or only adults? Try some of the alcohol tastings in Pigeon Forge and Gatlinburg! You can taste moonshine and liquor for a small fee at quite a few places, including Ole Smoky Moonshine and Sugarlands Distilling Company. There are also many places throughout these two cities where you can do free wine tastings, such as Mill Bridge Winery and Tennessee Homemade Wines. You can even taste cider at Tennessee Cider Company in Gatlinburg!
You won't run out of free and affordable things to do in Pigeon Forge and Gatlinburg! Want even more ideas for fun things to do in the area? Check out these Smoky Mountain attractions!