5 Reasons Why Guests Love Hot Tubs at Our Cabins for Rent in the Smokies
Our beautiful cabins have all kinds of fantastic amenities for your Smoky Mountain vacation, including fully equipped kitchens, decks with scenic views, fireplaces, game rooms, and more! One of the amenities guests love most is the hot tub, which feels absolutely delightful after an action-packed day of exploring the Smokies! Here are the top 5 reasons why guests love the hot tubs at our cabins for rent in the Smokies:
1. Soothes Your Muscles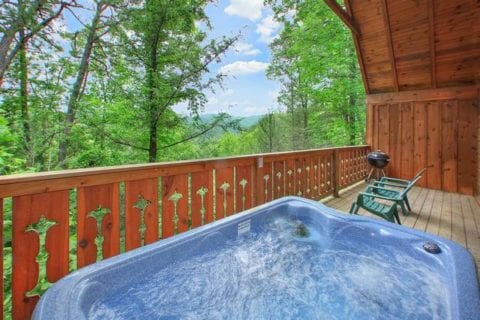 Hot tubs are a soothing, especially after walking the streets of downtown Gatlinburg or hiking the trails at the Great Smoky Mountains National Park! Whether you have sore feet or aching muscles, the warm water and jets make you feel completely relaxed! While there is plenty to see and do in the Smokies, don't be surprised if the hot tub turns out to be the best part of your vacation!
2. Romantic Amenity
If you are a couple staying at one of our 1 bedroom cabins for rent in the Smokies, the hot tub is a wonderful romantic amenity you can enjoy on every night of your stay! Just imagine soaking in the hot tub each evening as the night sky comes alive with thousands of twinkling stars! It is no wonder why so many couples celebrating a honeymoon, anniversary, or other special occasion choose to stay cabins for rent in the Smokies with hot tubs!
3. Gorgeous Views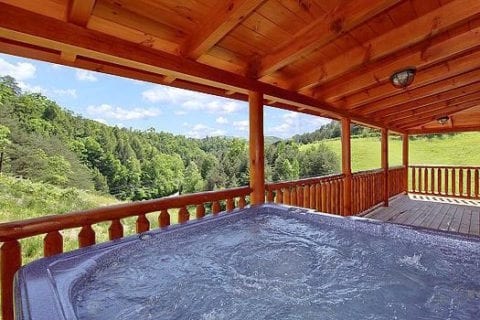 The hot tubs at our cabins are on the private deck, where you can enjoy gorgeous views of the mountains! Since the hot tubs are just steps away from the cabin interior, you can enjoy them any time of the year! Kick back on a warm summer afternoon to take in the beautiful wildflowers surrounding your cabin or visit during the autumn season to witness the spectacular fall foliage. The winter is also a special time to visit as you can sit outside in the warmth of the hot tub regardless of the outside temperatures!
4. Fantastic Rates
While some folks might worry that a cabin with a hot tub is expensive, you will be pleasantly surprised about the fantastic rates we offer! Our cabins are for rent at tremendous value, especially when compared to staying in a hotel! If you are staying in one of our multi-bedroom cabins, you will be amazed at how much you can afford when splitting the cost with a group of friends or family members! If you want to save even more money on your vacation, be sure to take a look at our latest Smoky Mountain cabin specials!
5. Stress Relief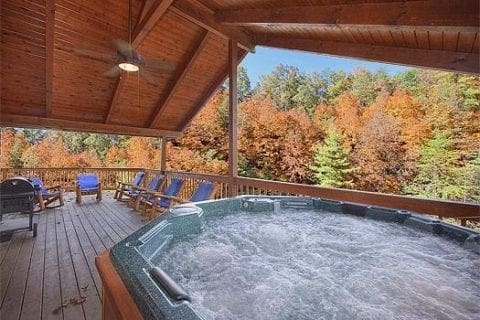 If you are feeling burned out by the hustle and bustle of your daily life back home, the hot tub provides the stress relief you need! When you are relaxing in the hot tub, it will seem like nothing else matters except how good you feel! Start your day with a 15 to 20 minute soak in the morning or wind down in the evening with a hot tub session that will help you sleep like a baby!
Check out all of our  today to enjoy your own private hot tub and other fabulous amenities during your vacation! We look forward to seeing you soon!