Top 5 Pancake Houses in Gatlinburg You Should Try for Breakfast
Gatlinburg is a hot spot for pancake houses. You'll find so many places to go out for breakfast, you might have a hard time deciding where to go. We want to share some of the best pancake houses in Gatlinburg you have to try while you're in town. They all serve every kind of breakfast food you can think of, including pancakes. Here are the top 5 pancake houses in Gatlinburg you should try for breakfast:
1. Pancake Pantry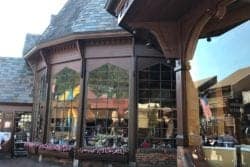 Pancake Pantry is one of the most popular places to go for breakfast in Gatlinburg. They have classic southern style buttermilk pancakes, pancakes covered in fruit, candied pancakes, and so many other treats. You'll also find delicious waffles and french toast for other comfort food. You can get breakfast platters with eggs cooked just how you like, bacon, ham, sausage, hash browns, biscuits, and so much more. Pancake Pantry was the first pancake house in Tennessee, so it's definitely one of the places you'll want to try!
2. Log Cabin Pancake House
Another great pancake house in Gatlinburg you should eat at is Log Cabin Pancake House. This restaurant serves mini pancakes, old fashioned pancakes, and whole wheat pancakes. You'll also find chocolate chip, blueberry, and black walnut pancakes. For something a little lighter, you can get apple, blackberry, or peach crepes. You'll also find waffles, biscuits and gravy, and french toast. If you're not in the mood for pancakes, you can get the "Hold the Pancakes" special, which has 2 eggs, bacon, sausage, or chopped ham and your choice of potatoes and toast or biscuits.
3. Atrium Pancakes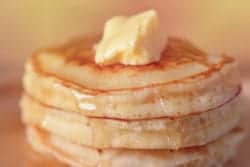 A little hole in the wall place you should go is Atrium Pancakes. It's a great place to eat for the whole family. You can get eggs cooked how you like, sausage, bacon, ham, steak, hash browns, and many other breakfast staples. They have a wide variety of pancakes, from fruit to candies. Their signature pancake is baked in a cast iron skillet and stuffed with apples. It's a treat you'll want to experience when you stay with us!
4. Little House of Pancakes
Little House of Pancakes is another pancake house in Gatlinburg you need to try. It's a small, locally owned and operated place that has great food. Try one of their signature pancake or waffle dishes covered in warm syrup to fill you up for the day. Get eggs cooked to order with potatoes and bacon. If you want to indulge, you have to try their french toast. You can get all the classic southern staples, from biscuits to country fried steak.
5. Flapjack's Pancake Cabin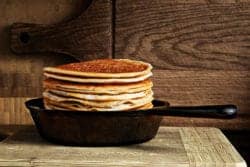 Flapjack's Pancake Cabin is a locally owned chain that serves delicious breakfast food to get you started for the day. You can get plain classic pancakes or try their signature sticky bun pancakes that taste like a cinnamon roll. Get an egg platter for extra protein, or try one of the omelettes stuffed with your favorite veggies and proteins. If you really need a good, full breakfast, get one of the skillets. You can add peppers, onions, and cheese to your skillet filled with potatoes, protein, and more.
These pancake houses in Gatlinburg are great ways to start your day. You can fill up on good food so you can explore the Great Smoky Mountains National Park or walk around downtown Gatlinburg. Not sure what you want to do when you stay with us? Here are some area attractions so you can find something fun to do!