Spend Thanksgiving In The Smokies
Thanksgiving Is For Loved Ones and Relaxation
Thanksgiving is a time for gathering with loved ones, enjoying delicious feasts, and relaxing after a long season of day-to-day routines. As family and friends come together to celebrate our hard work and to be thankful for what we have been given, we take time to rest and to unite without the distraction of tasks. For this reason, taking time away from our homes and places of business is the perfect plan for the holidays this year.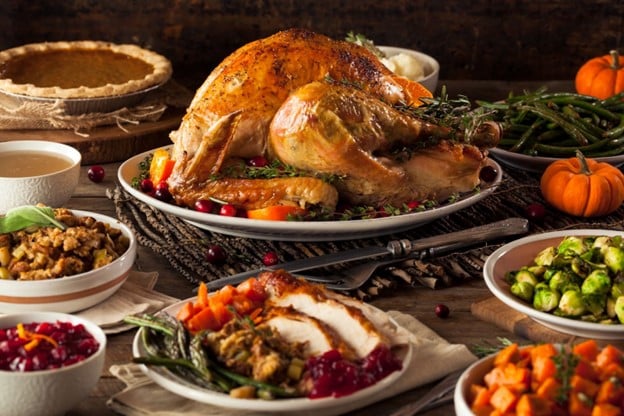 A Holiday In The Smokies
The Smoky Mountains in East Tennessee are an exquisite place to host your Thanksgiving. With the first of the Autumn leaves drifting from the trees and the colors of the forest vibrantly decorating the mountain tops, The Smokies are a breathtaking paradise this time of year. Imagine cooking and baking your Thanksgiving feast while looking out over a landscape from the comfort of your cabin's kitchen. Your family can enjoy their time together while also having enough room to not step on each other's toes. In the Smokies, there is a cabin for everyone.
Places To Stay
Finding the right cabin can be a task; so to make it easier, Smoky Mountain Chalet Rentals has a wide selection of cabins to choose from as well as an easy-to-navigate website to help you find exactly what you need. Their cabins include stunning views, and both central and secluded locations depending on your preference. Escaping for Thanksgiving to a cozy cabin where no one has to worry about hosting or having room to fit the family is something to be thankful for, and Smoky Mountain Chalet Rentals is the perfect place to find one.
Things To Do
Thanksgiving day is for feasting, but the days surrounding the holiday are for having fun and spending time together. While you are in The Smokies there are lots of things to do. The Village in Pigeon Forge is filled with shopping, good food, and world-famous taffy, and is perfect for everyone. Visiting Riley's Aquarium is another family-friendly option for those who are interested in marine life and in Ripley's many shark-themed events. After these afternoon adventures, you can unwind by going on a stroll through the Smoky Mountains, not far from your cabin. While you hike, enjoy the fall foliage and catch a glimpse of East Tennessee's wildlife. The Smokies are packed with things to do and explore, all you have to do is come and enjoy the southern hospitality.
Dine In The Smokies
There are many delicious dining options in the Smokies that are never too far from your door. With melt-in-your-mouth fondue options, The Melting Pot is a fan favorite in the Gatlinburg area. If you are searching for the perfect date night spot during your stay, this one should be on your list. Another tasty option is Crystelle Creek, a steak and seafood restaurant also in Gatlinburg. If seafood is what you are in the mood for, Chesapeake's is another choice to add to your dining ideas. 
Spending Time With Those You Love Most
With their stunning beauty, fun activity options, and wide dining selection, The Smoky Mountains are the perfect place to enjoy Thanksgiving with your family. The most important part of the holiday is being around the people you love the most. To do that, gather around a fire in your cabin, grab a mug of hot chocolate, and prepare for your most relaxing Thanksgiving yet when you celebrate in The Smokies.