3 Summer Camp Programs for Kids at Ripley's Aquarium of the Smokies
If you're planning a summer vacation to Gatlinburg and are looking for a fun activity your kids will love, you'll be excited to know Ripley's Aquarium of the Smokies offers several summer camp programs! These programs are unique opportunities for your kids to learn more about marine science and find out what goes on behind the scenes at the aquarium! Here are 3 fun summer camp programs for kids at Ripley's Aquarium of the Smokies:
1. Expedition Camp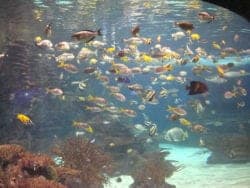 One of the fun summer camp programs at Ripley's Aquarium of the Smokies is the Expedition Camp, a half-day adventure where your little ones get to spend some quality time with the aquarium's education staff! During the camp, kids will get to enjoy a scavenger hunt, crafts, story time, and much more! Of course, one of the highlights of the Expedition Camp is a chance to get up and close to one of the amazing animals! Each camp date focuses on a unique habitat and the animals that live there.
2. Junior Aquarist Camp
Another awesome camp at Ripley's Aquarium of the Smokies is the Junior Aquarist Camp, which involves a full day of learning about what it takes to become a Ripley's Junior Aquarist! This is a wonderful opportunity for your kids to become more interested in marine science and conservation. Some of the activities during the Junior Aquarist Camp program include a behind the scenes visit to a Shark Feed and water quality testing. Your kids will also have the chance to feed the aquarium's stingrays and dissect a squid!
3. Kids Night Out Camp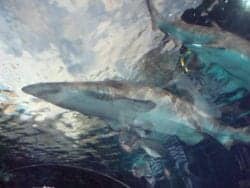 If you have truly adventurous kids in your family, they will love the chance to participate in the Kids Night Out Camp! This wonderful overnight camp is an experience your kids will never forget as they actually get to sleep inside the Shark Lagoon Tunnel! Before setting up camp in the tunnel, your children will participate in a variety of fun activities including crafts, scavenger hunts, and a variety of science experiments! We guarantee the Kids Night Out Camp will be the highlight of your child's summer vacation to the Great Smoky Mountains!
Where to Stay
Make the most of your summer vacation by booking a cabin with us! Our cabins are in beautiful locations among the mountains but are still just minutes away from Ripley's Aquarium of the Smokies and all of the other Gatlinburg attractions you want to do! Whether you have a small family or are traveling with a larger group, we have cabins of all sizes to accommodate your needs. While staying with us, enjoy amenities such as fully equipped kitchens, private decks with scenic views, hot tubs, and more!
Our cabins are the perfect place for you to stay when you send your kids to one of the summer camps at Ripley's Aquarium of the Smokies! Take a look at all of our cabins in Gatlinburg TN today to plan your summer vacation! We look forward to seeing you soon!