Top 5 Reasons for Taking a Smoky Mountain Cabin Vacation with Your Friends
There are so many reasons for renting a Smoky Mountain cabin for vacation. We think that it would be a great way for you and your buddies to skirt the duties of your everyday lives for a nice change of scenery. We'll give you our top 5 reasons this would be a wonderful idea for a vacation getaway with your closest friends!
1. Game Nights
If you and your friends are looking for a way to get some friendly competition going without distractions, then this type of getaway is perfect. Our cabins are stocked with some old-fashioned, but timeless games that are always enjoyed by our guests. A great one for this type of vacation is our ​Stress Relief cabin​. This is a spacious 3 bedroom cabin with a pool table, air hockey table, and foosball game — all available for your own little tournament!
2. Movie Nights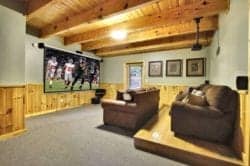 Your friends will certainly feel thankful for you planning a Smoky Mountain cabin vacation, especially if it has a theater for the ultimate movie experience. You can all bring your favorite flicks to sit in the theater room of our ​Morning Glory cabin​! We recommend it because it's a great relaxation cabin to go along with the large 120" screen your movies-of-choice are projected on.
3. Relaxation Cabins
When you decide to book a cabin with your friends, you're probably looking for a place where you're not reminded of office cubicles and meeting rooms. If you love the feeling of fresh country air far away from your problems, then you'll love our cabins that provide you with an amazing representation of that image you had in your head. Your friends will love this place with its babbling mountain stream and cool, crisp air too!
4. Group Hike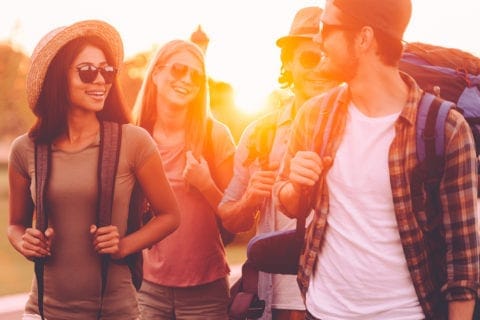 It's safe to say that even if your friends aren't necessarily outdoor people, they'll be enticed by the lovely scenery that goes along with hiking. Stretch your legs by visiting one of the many trails in the ​Great Smoky Mountain National Park​ nearby. A Smoky Mountain cabin is a great way to spend a vacation, because it gives you a chance to go on an adventure. Your friends will breathe easier and feel the stress of daily life wash away in an instant here!
5. Split the Costs
If you have a friendly group that includes 5 or 6 of you, it really won't be an expensive vacation because you can split the total cost of your stay. Even though our cabins are quite the value, you'll need to let your buddies know in advance of how much your getaway will cost — and you'll see how little they'll need to save! The Smokies are a great place with plenty of activities. Enjoyment and relaxation is no gamble; it's a certainty here!
Those were all great reasons for bringing your friends to a Smoky Mountain cabin for vacation. We have plenty of great choices for your friendly getaway, so ​book one of our cabins​ for your crew today!