Top 4 Activities You Should Do in the Great Smoky Mountains
The Great Smoky Mountains are a great place to explore. The national park is one of the most popular attractions in the area and for good reason! You can get outside and enjoy nature in multiple ways. From exploring the trails to seeing all kinds of cool places, there's plenty to do. Here are the top 4 activities you should do in the Great Smoky Mountains:
1. Go for a Drive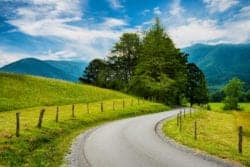 One of the most popular ways to explore the national park is to go for a drive. Cades Cove is the most popular area in the park, making it the most popular drive. The loop is 11 miles long, and you can actually pull off alongside the road to get out and explore. If you want to skip the crowds, try Foothills Parkway. This scenic road has been under construction for years, and there's still a 33.5 mile section to be completed. The Roaring Fork Motor Trail is another great drive in the mountains. It's a one-way road that really shows you the beauty of the Smokies. Going on a drive is a great way to explore.
2. Have a Picnic
Another popular pastime in the Great Smoky Mountains is going on a picnic! Just grab your cooler and pick from one of the many picnic areas in the park! You can make your own food when you get to your picnic spot, or pick up a meal from one of the local restaurants in town to enjoy. Cades Cove has a picnic area next to a creek, which is a great place for the kids to play. Another popular spot for picnics is in Metcalf Bottoms, where a river runs alongside the picnic area. Other popular picnic areas include Cosby and Greenbrier.
3. Explore Hiking Trails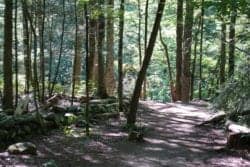 You can't come to the Smokies without hiking a little! It doesn't matter if you have never hiked before or you hike all the time; you'll find a trail that's perfect for you! There are over 800 miles of hiking trails in the national park. They range from easy to difficult, and you can actually choose what kind of features you'd like to see. There are waterfalls at the end of trails, or you can hike to the top of a mountain. You can see incredible mountain views or just enjoy a simple nature walk. You don't want to miss out on the hiking trails in the Great Smoky Mountains! A great trail to start out on is the Gatlinburg Trail!
4. See the Sights
There are plenty of sights in the Smokies you'll want to see. Clingmans Dome is a popular structure people love to climb. You just take a short, yet steep, hike to the observation tower to have an amazing view of the Smokies from the highest elevation point. Charlies Bunion is a cool rock formation people love to see. The Sinks is another cool place people like to see. It's a huge amount of water gushing over rocks right off of Little River Road.
You have so many fun things you can do when you visit the Great Smoky Mountains. Want to know what else there is to do in the area when you stay with us? Look at these attractions in Pigeon Forge and Gatlinburg for some ideas!