Top 4 Reasons Why You Should Explore the Gatlinburg Trail
The Gatlinburg Trail is a pleasant walking trail that travels for 1.9 miles from downtown Gatlinburg to the Sugarlands Visitor Center in Great Smoky Mountains National Park. While there are hundreds of hiking trails throughout the national park, this is one of the best to experience during your vacation in the Smokies! Here are the top 4 reasons why you should explore the Gatlinburg Trail:
1. Easy for All Skill Levels
The Gatlinburg Trail is a relatively flat trail that is perfect for novice hikers and family members of all ages! If you have young children in your family, they will love exploring the forest and be intrigued by the foundations and chimneys of old homesites that are visible along the way. Once you have completed this trail, you can determine if you are ready for some of the more difficult hikes in the national park. Whether you want to see waterfalls, wildflowers, historical structures or old growth forests, you're sure to find everything you're looking for and so much more!
2. Ideal Place for Biking
The Gatlinburg Trail is also one of the only trails in the national park that allows bicycles, making it a great place to go for a scenic ride! If you didn't bring your own bike from home, you can rent a variety of bicycles from Bike the Smokies. While you can simply walk into the shop to rent your bike, it is recommended that you reserve them for your trip in advance for the best availability. Bike the Smokies is located at 3726 East Parkway in Gatlinburg and is just minutes from Smoky Mountain Chalet Rentals!
3. Dogs Are Permitted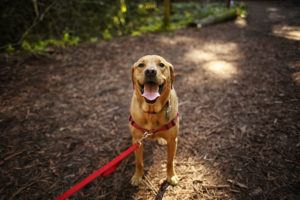 One of the unique things about the Gatlinburg Trail is that it is one of only two walking paths within the national park where dogs are permitted. This makes it very convenient for those guests who are staying in one of our cabins that allow pets! Just keep in mind that dogs must be kept on a leash at all times while walking along the Gatlinburg Trail, and the leash must not exceed 6 feet in length. It is also required that pet excrement is collected immediately and deposited in a trash receptacle.
4. Beautiful Scenery
Another top reason to explore the Gatlinburg Trail is to see some of the beautiful scenery within the national park! The trail runs along the West Prong of the Little Pigeon and offers wonderful views of the river, which at one point is crossed by a pedestrian foot bridge. Be sure to bring your camera to take advantage of some excellent photo stops along your journey! You can hike the Gatlinburg Trail all year long and every season offers its own special awards. So, don't let any cold weather keep you from enjoying this special hike!
As you can tell, there's no shortage of reasons to explore The Gatlinburg Trail. Be sure to stop by this beautiful trail, and don't forget to visit some of the other popular attractions for an unforgettable trip