Experience the Legend of Hallow Mountain at Anakeesta This Fall
Anakeesta has quickly become one of the top attractions in the Smoky Mountains, with everything from a thrilling mountain coaster and dueling ziplines to a cliff top bar and grill! This exciting mountaintop destination is about to get even better with the introduction of the Legend of Hallow Mountain, Gatlinburg's premier Halloween event! Here is everything you need to know about experiencing the Legend of Hallow Mountain at Anakeesta this fall:
What to Expect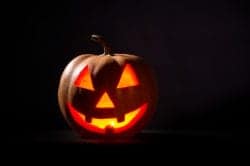 The Legend of Hallow Mountain at Anakeesta is a brand new Halloween event in Gatlinburg that has fun and spooky activities for all ages! The event is included for free as part of your general admission ticket into Anakeesta! Your children will love the family friendly crafts, games, movies, and activities, as well as plenty of sweet treats too! However, once the darkness falls over Anakeesta, things really get creepy with several scare zones that are sure to have you screaming! The event takes place on select nights from September 13 through November 2, 2019.
Zombie Ziplining
One of the unique opportunities at Anakeesta's Legend of Hallow Mountain is the chance to go Zombie Ziplining! While this particular activity requires an extra ticket, it is well worth the extra cost to go ziplining through the darkness of night! With only a single beacon to guide your way, you will soar through the night sky on 3 ziplines, 126 feet above the forest floor! And if that doesn't sound thrilling enough, your adventure includes 2 rappel drops that are 70 feet above the ground. See if you have what it takes to plunge into total darkness!
The Backstory of Hallow Mountain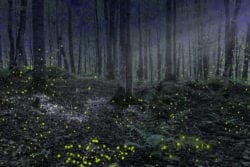 The creepy backstory of Hallow Mountain begins eons ago when Anakeesta was a sacred ground where souls of the dead would be freed and transformed into fireflies. As legend has it, the guiding lights of these fireflies would provide a path for future souls to follow. However, the tranquility of this hallowed place was disturbed 100 years ago when the Appalachian settlers arrived, built homes, and established graveyards. As a result, Hallow Mountain was desecrated, and the tormented souls of the settlers buried here could never rest in peace. During your visit, you never know when you might see the lost souls of these anguished settlers as they rise from their graves and search for a way off the mountain!
Where to Stay
Make the most of your vacation to Gatlinburg with a stay at Smoky Mountain Chalet Rentals! Although our cabins are situated just minutes away from Anakeesta, they are in a peaceful location where you won't have to worry about any of those pesky ghosts from Hallow Mountain! While staying with us, enjoy a variety of wonderful amenities including comfortable bedrooms, private decks with scenic views, fully equipped kitchens, hot tubs, and much more!
Everyone will have a blast getting scared at the Legend of Hallow Mountain at Anakeesta! Check out all of our cabins in the Smokies today to start planning your trip!