5 of the Best One Bedroom Cabins in the Smoky Mountains for a Romantic Retreat
Have you been thinking about getting away on a romantic retreat? A little rest and relaxation in one of our 1 bedroom cabins in the Smoky Mountains will definitely help you unwind and connect with each other, and our great rates will leave you with plenty of extra cash to wine and dine your sweetheart, visit popular attractions or indulge in a couple's massage at a local spa. Check out our list below of 5 romantic 1 bedroom cabins in the Smoky Mountains that are perfect for a romantic getaway:
1. Honeysuckle
This romantic, 1 bedroom cabin in Gatlinburg TN has all you need for a restful weekend connecting with nature and one another. Honeysuckle features a King bed in the loft with a full bath and an indoor Jacuzzi. There is also a wood-burning fireplace for cooler evenings and a bubbling outdoor hot tub for you to soak in and relax. It's conveniently located between Pigeon Forge and Gatlinburg, so you're no more than a 10-minute drive to either of the two towns or the Great Smoky Mountains National Park! 
2. Bliss
This cabin's name says it all! This 1 bedroom, 1 bathroom cabin offers guests stunning views both inside, through its large glass windows, and outside from the private porch. Bliss has all of the amenities you need for an enjoyable weekend away, including a king bed, an indoor Jacuzzi tub and outdoor hot tub. Spend the night with a home cooked meal from the fully equipped kitchen and watch your favorite movies on one of the flat screen TVs.
3. Cupid's Dart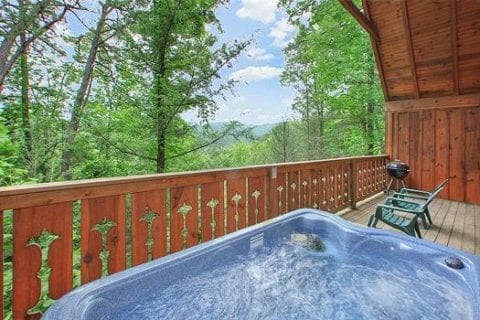 You'll certainly be feeling the love in this romantic 1 bedroom cabin in Gatlinburg TN. Cupid's Dart features a king bed located in the loft with breathtaking views of the Smokies, a 2-person Jacuzzi tub, and private hot tub located on the back deck. Like all of our 1 bedroom cabins in the Smoky Mountains, Cupid's Dart comes equipped with all of the comforts of home including a washer and dryer, full kitchen, and free Wifi.
4. Enchanted
Perfect for a weekend getaway, Enchanted features gorgeous vaulted ceilings and lots of windows, allowing you to enjoy spectacular mountain views whether you're in the living room or relaxing in the hot tub on the private back porch. The 1 bedroom loft has a spacious king bed and full bathroom with a Jacuzzi tub perfect for enjoying a glass of wine from one of the Smokies' local wineries.
5. Serenity
If you're looking for a little peace and quiet, look no further! Serenity is another one of our gorgeous one bedroom cabins in the Smoky Mountains that offers stunning views through its many large windows, as well as from the lofted bedroom and private porch. The large Jacuzzi and outdoor hot tub offer multiple avenues to help relax the mind, body and soul during your stay, and our amenities assure you will have all of the necessities at your fingertips.
Want to know where you can go for a romantic dinner? Check out these romantic restaurants in Gatlinburg.
All of these quaint retreats are located just 5 to 10 minutes from both Pigeon Forge and Gatlinburg, providing you with easy access to many of the area's most popular restaurants and attractions. Check out all of our other 1 bedroom cabins in the Smoky Mountains and book your romantic retreat today!