5 of the Best Smoky Mountain Scenic Drives You Will Love
Fill up the gas tank and get ready for the views of a lifetime when you visit the Great Smoky Mountains National Park! There are 384 miles of road in this park that are packed with gorgeous new sights to see. Just don't forget to pull over every now and then in one of the many pullouts so that you can take a few pictures and admire your surroundings. To help you make the most of your experience, here are 5 of the best Smoky Mountain scenic drives that you are sure to love!
1. Cades Cove Loop Road
The Cades Cove Loop Road is an 11-mile, one-way loop that circles the cove and takes anywhere from 2 to 4 hours to complete. Cades Cove is rich in history, and there are several churches, a working grist mill, barns, log houses, and historical structures. There have also been frequent wildlife sighting of white-tailed deer, black bears, turkeys, and many other native species. Keep in mind that the loop road is closed off to vehicles until 10:00 a.m. every Saturday and Wednesday morning from early May until late September.
2. Roaring Fork Motor Nature Trail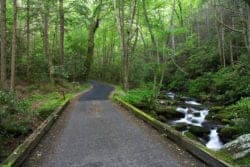 If you're looking for a drive where you can slow down and really take everything in, the Roaring Fork Motor Trail is the perfect road for you! Roaring Fork got its name from the lively mountain stream that you'll get to see as you drive along your way. You can also spot an old-growth forest, and a number of well-preserved, historic buildings. One of the best times to visit this road is after a heavy rain when its stream is flowing with its full force.
3. Newfound Gap Road
Another one of the best Smoky Mountain scenic drives is the Newfound Gap Road. It can be accessed from either Cherokee, NC or Gatlinburg, TN. This road also boasts the lowest drivable pass through the Great Smoky Mountains, as well as a variety of forest ecosystems. This road climbs approximately 3,000 feet in elevation, so you'll experience a temperature drop of about 10 degrees, which isn't half bad during the warmer months. You'll even get to pass by the Appalachian Trail and the Rockefeller Memorial!
4. Clingmans DomeRoad
Clingmans Dome Road travels 7 miles one way and ends in a large parking area from which a half-mile trail leads to the summit. Along the way, you can park in some of the scenic pullouts and hop out to enjoy endless views of ridges and valleys! Keep in mind that this road is closed from December 1 through March 31.
5. Rich Mountain Road
This 8-mile, one-way road heads north from Cades Cove to Townsend, TN. It's one of the best routes to take if you'd like to avoid the crowds and still drive past some spectacular scenery. Please note that this road is winding and steep and is comprised of gravel, so a 4-wheel-drive vehicle is recommended.
There are so many amazing Smoky Mountain scenic drives, and they're all waiting for you! Be sure to check out all the other exciting area attractions so that you can plan for an unforgettable trip!