Top 4 Reasons to Spend the Holidays at Our Gatlinburg Cabin Rentals
The holiday season is quickly approaching, so this is the perfect time to plan your Christmas vacation in Gatlinburg! There is no better place to stay during the holidays than Smoky Mountain Chalet Rentals, which offers affordable cabins with all types of fun amenities! Here are the top 4 reasons to spend the holidays at our Gatlinburg cabin rentals:
1. Fully Equipped Kitchens for Meals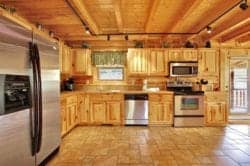 One of the fun things to do during the holidays is baking pies, cookies and other delicious treats! The awesome news is that all of the cabins from Smoky Mountain Chalet Rentals feature fully equipped kitchens that contain all the modern amenities of your own kitchen back home. This means that you can prepare everything from snacks to a 4-course dinner! Whether you want to enjoy a Christmas dinner with your family or just want a quick breakfast before heading out to explore, you will love the convenience of the full kitchen!
2. Close to Downtown Gatlinburg
Although our Gatlinburg cabin rentals are situated in scenic locations among the Smoky Mountains, they are still just minutes from all of the festive fun in downtown Gatlinburg! The holidays are a wonderful time of year to visit Gatlinburg as there are tons of fun events taking place throughout the city. The Gatlinburg Trolley Ride of Lights offers a comfortable journey through downtown as LED lighting displays showcase a variety of winter scenes, as well as animals indigenous to the Great Smoky Mountains National Park! Other fun holiday events include the Gatlinburg Festival of Trees, Great Smoky Christmas Arts & Crafts Show, and the Winter Smoky Mountain Tunes and Tales.
3. Comfortable Rooms for Everyone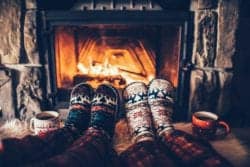 Whether you are planning a Christmas celebration with a small group or a large family, there are comfortable rooms for everyone at Smoky Mountain Chalet Rentals! We offer cabins ranging from 1 to 6 bedrooms so that all the members of your family can enjoy a delightful night of rest each night. There is nothing quite like having your entire family under one roof, so staying in one of our Gatlinburg Cabin Rentals is much more fun and affordable than staying in separate rooms in a hotel!
4. Fantastic Amenities
While spending the holidays at Smoky Mountain Chalet Rentals, you can enjoy all types of fantastic amenities! All of our cabins feature a private deck where you can step outside with some hot chocolate to take a deep breath of the fresh mountain air. If the temperatures are a bit too chilly for you, there is no need to worry as you can take a dip into your soothing hot tub! Our cabins also feature a fireplace to warm your bones after a winter hike through the Smoky Mountains. Be sure to browse all of our listings because we also have cabins with features such as game rooms, theater rooms and more!
Check out all of our Gatlinburg cabin rentals today to plan your getaway to the Great Smoky Mountains! We hope to see you this holiday season at Smoky Mountain Chalet Rentals!