5 Reasons Groups Love Our Large Cabins in Gatlinburg
Vacations are so much fun with a large group of family or friends, and the Smoky Mountains is the perfect place to go for a group vacation. Staying in one of our large cabins in Gatlinburg can make this vacation better than ever! Check out these 5 reasons groups love our large cabins in Gatlinburg:
1. Lots of bedrooms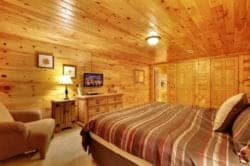 The kids may not mind being a little cramped, but for the adults, space is key! That's why our large cabins have more space than the average cabins. Our largest 6 bedroom cabin can sleep up to 18 people! These bedrooms have plenty of space for you luggage and other belongings; you'll have no trouble making yourself at home. Some large cabins have lofts or dedicated kids rooms with multiple bunk beds, perfect for kids who want their own space together.
2. Plenty of bathroom space
Not having enough space in the bathroom is a constant struggle most women (and some men) deal with on a daily basis, but not in our large cabins in Gatlinburg! During your vacation, you can enjoy big bathrooms, some with Jacuzzi tubs! You and the other guests won't have to arrange shower schedules or wait in line; you'll have multiple bathrooms with plenty of space for your group's needs. The kids could even have their own bathroom! That might also help keep all of their items contained and out of the adult's way.
3. Multiple common areas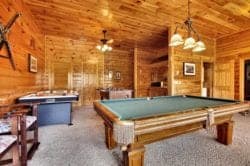 Another reason guests love our large cabins is the multiple common areas. Our cabins feature large eat-in kitchens, some with an open concept to a separate dining room and spacious living room so you'll have plenty of space to entertain your group. Plus, you can enjoy the rec room with TVs and pool or air hockey tables. Besides all of the great indoor space, you can enjoy the privacy and gorgeous mountain views on the deck. It's big enough for the kids to run around or to grill and enjoy your meal outdoors. Our large cabins can accommodate large groups because of the option to be together in one space or the freedom to find your own little corner of privacy.
4. Many fun activities
Looking for a fun activity your whole group can enjoy? You and your group can have fun without leaving your cabin! You can choose from cabins with wireless internet, flat screen TVs with cable, DVD players, home theaters with surround sound, hot tubs, Jacuzzi tubs, grills, fire pits, video game consoles, board games and other games such as foosball, air hockey, pool, and more!
5. Several discounts and specials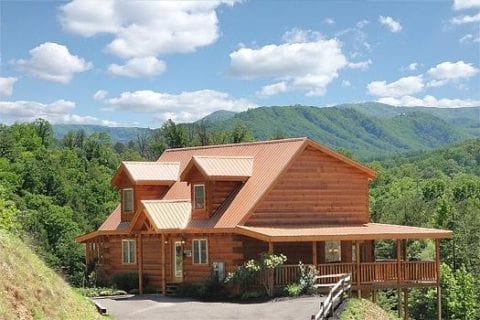 One of the best things about going on a group vacation is the split cost! You can find the best cabin for the best price by booking one of our large cabins in Gatlinburg. Sharing a large cabin will save you money and get you discounts on area attractions too. We also offer discounts and specials throughout the year, so be sure to check our specials frequently!
Get your group together and make this vacation in the Smokies one to remember by booking a large cabin in Gatlinburg today!