Top 4 Reasons Why Our 1 Bedroom Cabins in the Smoky Mountains are Perfect for a Romantic Getaway
If you are looking for the perfect destination for a romantic vacation, check out Smoky Mountain Chalet Rentals! Our beautiful 1 bedroom cabins have everything that couples need for a wonderful time together away from it all! Whether you are celebrating an anniversary, honeymoon or a new love, come on out for yourself to find out why couples love staying in our cabins. Here are the top 4 reasons why our 1 bedroom cabins in the Smoky Mountains are perfect for a romantic getaway:
1. Secluded Settings
The 1 bedroom cabins from Smoky Mountain Chalet Rentals are situated in secluded settings where you can enjoy the peace and solitude of the Smokies. Some of our cabins are completely surrounded by trees, while others feature fabulous views of the mountains. You can't go wrong with either choice! The best part is that despite the secluded location of our cabins, they are still just minutes from the attractions of Gatlinburg and Pigeon Forge. Whether you are heading to Dollywood, Ober Gatlinburg or Great Smoky Mountains National Park, everything is just minutes away!
2. Romantic Amenities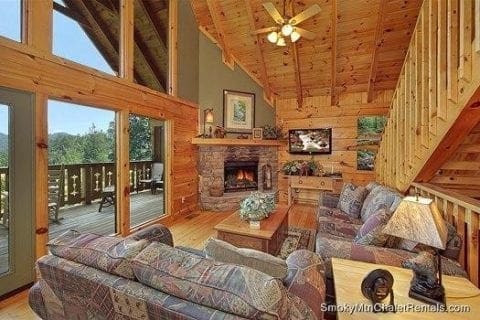 Our 1 bedroom cabins in the Smoky Mountains are filled with romantic amenities that both you and your sweetheart will love! Each cabin contains a wood or gas fireplace that creates the perfect ambiance for cuddling together in the evening. Imagine snuggling by the fire as the dancing flames light up the room! The fire also creates the ideal background as you watch a romantic movie on the flat screen television. Our cabins even feature outdoor hot tubs where you can kick under the beautiful night sky filled with thousands of twinkling stars.Let the bubbling jets soothe your muscles and put you into a complete stage of relaxation!
3. Fully Equipped Kitchens
Each of our cabins offers a fully equipped kitchen with a stove, refrigerator, microwave and everything else you might need for food preparation and storage. This means that you can enjoy delicious meals in the privacy of your own cabin throughout your stay at Smoky Mountain Chalet Rentals! Surprise your sweetheart with their favorite meal as you prepare a wonderful romantic dinner for two. Enjoy dining together with the fairytale setting of the woods or mountains outside of your window. This is sure to be a romantic vacation that the two of you will remember forever! If you do want to go out to eat, check out these romantic restaurants in Gatlinburg.
4. Comfortable Accommodations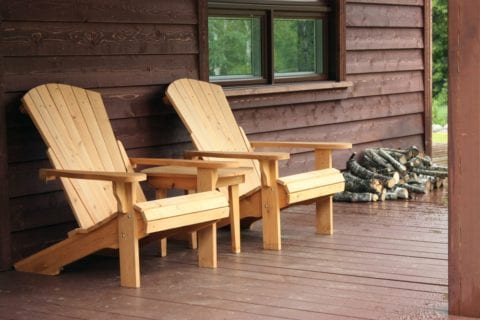 When you stay in our cabins, there is plenty of room to comfortably spread out! Our cabins are a much better alternative to staying in a traditional hotel room where there is virtually no room to move around. Each of our cabins are decorated in their own unique style but yet features all the comforts of home. Enjoy relaxing as a couple on the deck, soaking in a Jacuzzi tub and sleeping in late in the comfortable king size bed!
Check out all of our 1 bedroom cabins in the Smoky Mountains today to plan your romantic getaway to the Great Smoky Mountains! We look forward to seeing you soon at Smoky Mountain Chalet Rentals!