Top 7 Attractions You Don't Want to Miss While Visiting the Smoky Mountains
So you are planning a vacation to the Smoky Mountains; what an excellent choice! Now that you have determined the destination, have you decided what you want to do when you get here? You already may have a few things in mind, but just in case, we would like to recommend seven of the best attractions in and around Gatlinburg, Pigeon Forge, and Sevierville.

We also want to share with you how to get one free ticket to all of these attractions (and more), for every night you are booked at one of our properties.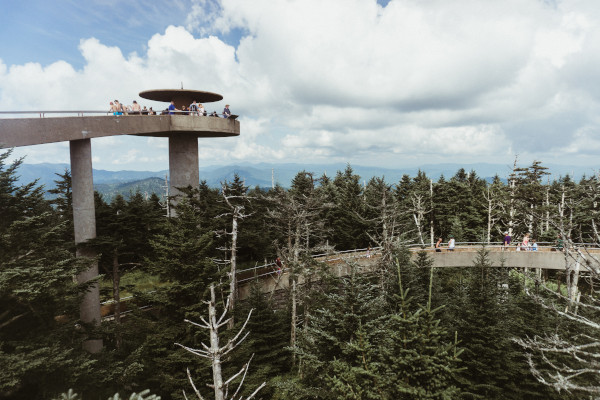 Great Smoky Mountains National Park
Of course, Great Smoky Mountains National Park is the most visited park in the USA, with just under 13,000,000 guests in 2022. With so much to do and see, it's no wonder so many people visit the Smoky Mountains.
The park is home to deer, bears, elk, turkey, and a host of other wildlife. There is no better place to picnic, hike, fish, see waterfalls, play in the river, and visit Cades Cove, one of the most beautiful settings in the park.
If you are into the outdoors, Great Smoky Mountains National Park is a must-visit. This recommendation is a bonus since we are sure you already planned to visit anyway! Just in case you don't know, entrance to the park is always free, but as of this year, parking is $5.
Our Top 7 Attractions in Gatlinburg, Pigeon Forge, and Sevierville
Gatlinburg, Pigeon Forge, and Sevierville are home to hundreds of wonderful family attractions. With so much to choose from, we thought you might like a little help deciding. Below is our list of the top 7 attractions in Gatlinburg, Pigeon Forge, and Sevierville.
This outdoor water park is one of the newest attractions in the area. If you are visiting between May and September, be sure to pack your swimsuit. You must have appropriate attire to get in the pools or rides, and you don't want to miss this 50 acres of fun.
Summertime can be hot in the Smoky Mountains, so a trip to the water park is a great way to keep cool and have a blast.
When you get hungry, you can choose from any of the ten places to buy shakes, candy, tacos, burgers, pizza, salad, adult beverages, and so much more.
But Soaky Mountain Water Park is not about the food really, it's about the adventure!
Ride the Avalaunch tube water coaster, a two-person ride that has you descending a wet and wild adventure all the way to the splash pool at the bottom.
If you are with friends and family, you may want to try the Blue Mountain Mayhem. From two to five people can ride together in this raft. But don't be fooled, this raft banks off of two massive walls on the way down, leaving some with a feeling of weightlessness.
With 20 exhilarating rides throughout the park, you can spend all day splashing around, eating, and taking in the sun.
TIPS
Check the Soaky Mountain Water Park website for their summer concert schedule.
Local artists play Pop, R&B, Country, and original compositions.
Bring your own towels to save a few bucks, but leave your snacks at home. Outside food is not allowed.
Rent a locker and leave your keys and other belongings in a safe place. First come, first served.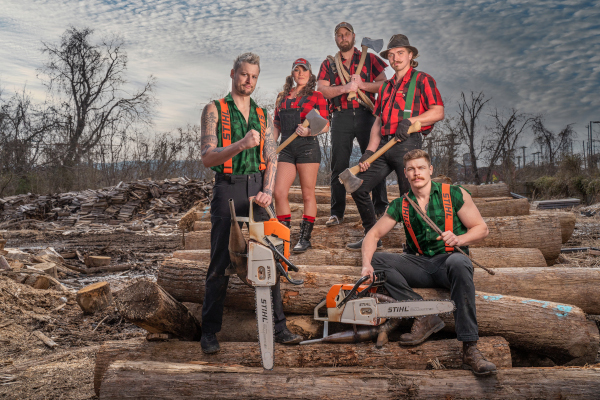 This live outdoor action show features real lumberjacks facing off in an old-fashioned log-cutting and tree-climbing contest between the fictional Dawson and McGraw families. Kids and adults alike have fun watching the lumberjacks compete in ax throwing, log rolling, and more.
The audience is close enough to be blasted by the sound of chainsaws and to hear the banter back and forth between the two feuding families. The 350-seat outdoor amphitheater is climate controlled, so you won't need to worry about comfort.
The lumberjacks and the presenters invite audience participation, which is a lot of fun, especially for the children. The audience is divided up with half rooting for the Dawsons and the other half for the McGaws. The lumberjacks hand out tree coins (you'll see) to someone in the crowd representing the winner of each competition.
Expect the show to last about an hour and a half, with a short intermission. During the intermission, you may buy snacks and drinks from the onsite store.
TIPS
You can buy Paula Deen's special recipe root beer here, and only here. It is not sold anywhere else.
Bring some earplugs if you want to protect your hearing. The chainsaws are loud!
Paula Deen's Lumberjack Feud Adventure Park is right next door.
The Titanic Museum is an experience like no other in Pigeon Forge. The owner of the museum co-led an expedition to the Titanic years ago. Now you can see many of the recovered artifacts up close and in person.
Upon arrival at the museum, each "passenger" (guest) receives a boarding pass. The boarding pass features the name of one of the actual passengers aboard the Titanic on that fateful voyage.
This amazing museum is a history lesson, giving you an inside glimpse into the passengers and the ship itself. You experience the life-sized replica of the ship and feel like you are a real passenger. Walk through the first-class suites, see the grand staircase, and dip your hand in ice-cold water to feel what the passengers did.
You will be amazed at all the details of how the ship was built, how it was decorated, and how it sank. They even have some of the original dishes, silverware, deck chairs, and more recovered from the bottom of the sea.
The Titanic Museum is truly fascinating and you don't want to miss it.
TIPS
Photography is not allowed inside the museum.
Plan to spend three hours or more for the best experience.
Okay, you can see this 200-foot-tall wheel from just about everywhere in Pigeon Forge. So what is the Great Smoky Mountain Wheel? It is a 20-story tall wheel (think of an upscale Ferris wheel) providing some of the most amazing views in all the Smokies.
Located on the Island in Pigeon Forge, it is one of the tallest attractions in the Southeastern United States. The forty-two, climate-controlled cabins seat up to eight people each.
Climb aboard and head to the sky for amazing views of Pigeon Forge and the Smoky Mountains. While ride times vary slightly, expect to make at least three revolutions.
TIPS
Children under age 3 ride free and children ages 3-11 receive a discount.
Military and Seniors receive a discount.
Parking is free at the Island in Pigeon Forge parking lot.
Dollywood is a favorite of guests and travel websites alike. Consistently rated in the top five or six theme parks in America by travelers, Dollywood is a vacation destination unto itself.
In 2022, Tripadvisor rated Dollywood the "#1 Theme Park in the United States."
This attraction is visited by more than 2.5 million guests each year. Why do they come to Dollywood? For an amazing family vacation experience!
Dollywood covers 150 acres near the Smoky Mountains and boasts more than 40 exhilarating rides.
But the Dollywood experience is more than the rides. Dolly wants every guest to experience the top-notch live music, festive live shows, delicious meals, and world-class entertainment that East Tennessee is famous for.
Throughout the year, Dollywood hosts festivals and events that are a huge hit with guests. You simply must put Dollywood on your "have to" list. You won't regret it.
TIPS
Parking is $25 to $30 depending on the size of your vehicle. You may park free at Patriot
Park in Pigeon Forge and ride the trolly for a couple of dollars per person. All-day passes are just $3.00. The trolly departs about every 15 minutes and drops you off right at the entrance to Dollywood.
You may rent a locker at the entrance to store small items.
Splash Country is next door!
Do you watch a lot of crime shows on TV? Well, you will love the Alcatraz East Crime Museum. You can explore 25,000 square feet of American crime history.
The five galleries in the museum showcase: A Notorious History of American Crime, Punishment: The Consequence of Crime, Crime Scene Investigation, Crime Fighting, and Counterfeit Crimes and Pop Culture.
Not only is this museum educational, but they also have some rare things on display as well.
You can see Bonnie and Clyde's "Death Car" from the 1967 movie with Warren Beatty and Faye Dunaway. View a real guillotine, a gas chamber, an electric chair, Al Capone's jail cell, and O.J. Simpson's Ford Bronco and Ted Bundy's VW Beetle. They are all here.
A number of interactive exhibits are fun to engage in. Try to crack a safe, attempt to hack a computer, try to beat a lie detector test, submit your fingerprints, and get booked for a crime.
Alcatraz East Crime Museum is located in Pigeon Forge on the Parkway near the Island.
TIPS
Allot 3 hours or more for the best experience.
Flash photography, gum, food, and drinks are not allowed.
Snacks are available near the exit, however, there is no cafe. Eat before you arrive.
Children 7 and under are free.
Dolly has done it again! Splash Country is a fantastic place to cool off in the summer and have a lot of fun. It is located next door to Dollywood, so why not enjoy both attractions?
Dollywood's Splash Country is a thrill-seekers delight. Or, if you just want to sit by the pool all day, you can do that too. Either way, it's a great place to spend a day in the Smoky Mountains.
You can float down a lazy river in a tube or free-fall down the 70-foot-tall Fire Tower Falls water slide. There is something for everyone.
For guests who want the ultimate getaway, plan ahead and reserve one of the Retreats, Deluxe Retreats, or Canopies. Each retreat has 200 square feet of shaded space along with TVs, chairs, tables, and a bunch more.
Of course, you need to eat. Splash Country Water Park provides options one usually doesn't expect from a water park. You will find everything from ice cream to macaroni and cheese, burgers, pizza, and deli sandwiches.
If you are looking for something more substantial, head over to Big River Pavilion for a pulled pork or grilled bbq chicken breast sandwich with two sides and a cookie.
TIPS
If you want to reserve one of the Retreats, do it as far in advance as possible.
Splash Country is open from mid-May to mid-September each year.
Tubes are provided at no additional cost but get yours early, they run out.
Get your hand stamped and you can come and go from the park. You will need your parking receipt to re-enter the parking lot if driving.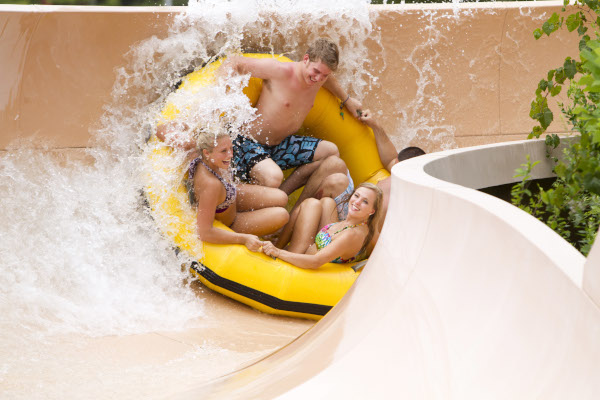 Smoky Mountain Chalet Rentals = Free Tickets

We know you have choices about where you go on vacation, where you stay, and how you invest your time and hard-earned money. Our family at Smoky Mountain Chalet Rentals understands this and is partnering with Xplorie to provide additional value for your vacation dollars.
Not only does Smoky Mountain Chalet Rentals offer some of the best cabin properties in all of the Smokies, but we also offer our guests complimentary tickets to top attractions in the area. When you book and stay in one of our cabins, you receive one free attraction ticket, for every one of our participating attractions, for every day of your stay with us.
Call us today at 800-883-7134 or book online at smcrentals.com and get more for your money at Smoky Mountain Chalet Rentals.