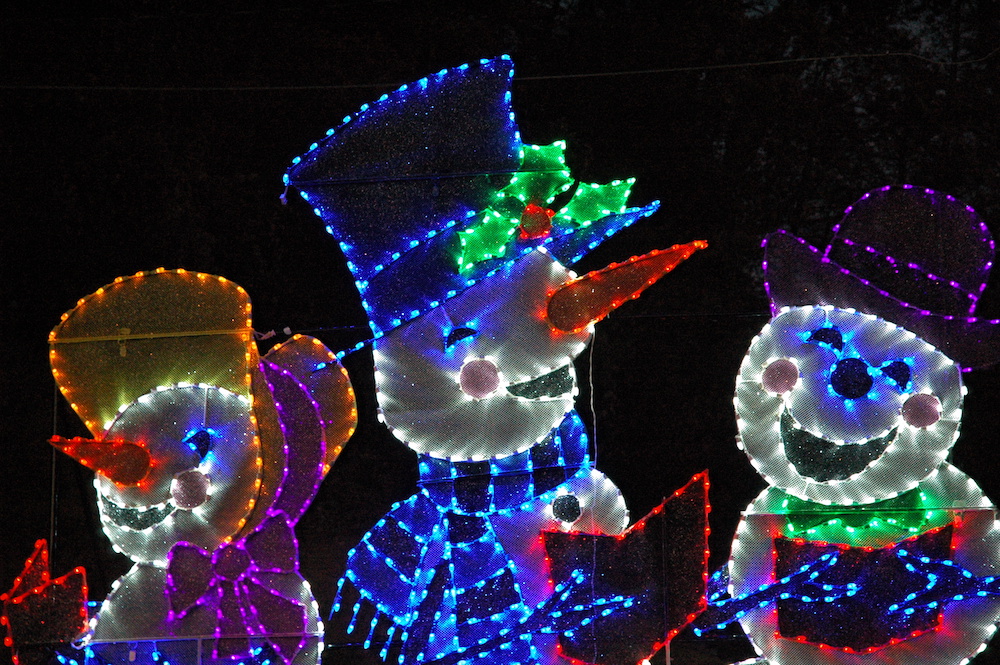 Top 3 Ways to Enjoy the Beautiful Christmas Lights in Gatlinburg
The holiday season is a magical time in Gatlinburg as it sparkles at night with millions of spectacular lights! You can expect to see traditional holiday displays such as dancing snowmen, as well as unique displays featuring deer, foxes, squirrels, rabbits, and other animals indigenous to Great Smoky Mountains National Park! Here are the top 3 ways to enjoy the beautiful Christmas lights in Gatlinburg:
1. Trolley Ride of Lights
The best way to enjoy the Christmas lights in Gatlinburg is aboard the Trolley Ride of Lights, which departs the Mass Transit Center at traffic light #5 for a tour of the light displays. The ticket price includes a costumed storyteller as your guide and a complimentary cup of hot chocolate, as well as a special Christmas token to commemorate your ride! The trolleys are enclosed and heated for your comfort, so sit back and relax for the 45-minute tour! The Trolley Ride of Lights departs 3 times nightly from November through December, with the exception of the first Friday. in December, Christmas Eve, Christmas Day, New Years Eve, and New Years Day. The tour also runs each Saturday night in January, and departure times are 6:30, 7:30 and 8:30 pm on each night of operation. The ticket prices are a bargain, and if you have kids 3 years old or younger, they are admitted for free if they are sitting on an adult's lap!
2. Self-Guided Driving Tour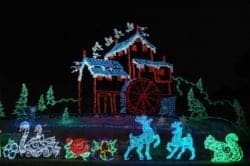 If you prefer the comfort and convenience of your own vehicle, enjoy a self-guided tour of the Christmas lights in Gatlinburg! The unique LED light displays are all on public roads including along Gatlinburg's famous downtown Parkway, the adjacent River Road, and at the triangle juncture of these two roads. Whether you plan an entire evening driving through the light displays or simply admire the lights when traveling between Gatlinburg attractions, you will love the holiday ambiance throughout town!
3. Gatlinburg Space Needle
Another fun way to enjoy the Christmas lights in Gatlinburg is from a bird's eye view at the top of the Gatlinburg Space Needle! This observation deck of this 407-foot-tall tower is accessed by 2 glass elevators. Once at the top, you will love the phenomenal views of downtown Gatlinburg and the Smoky Mountains! The Gatlinburg Space Needle is open both during the daytime and at night so you can witness Gatlinburg's Christmas lights from above! The observation deck even features free viewfinders where you can zoom in for a closer look at some of the displays!
Where to Stay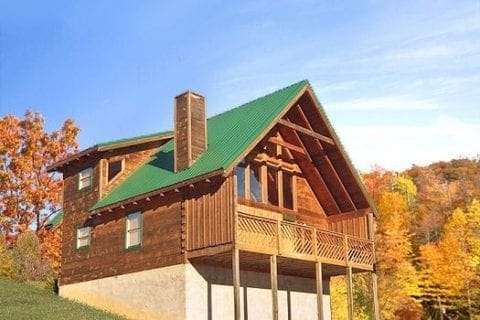 Make the most of your holiday getaway to Gatlinburg when you stay with us! Our cabins are situated in beautiful locations among the Smokies but are still just minutes away from the Christmas lights in downtown Gatlinburg! While staying with us, enjoy comfortable bedrooms, a fully equipped kitchen, bubbling hot tub, and the warmth of a fireplace! Come see for yourself why so many guests love spending their Christmas vacation at our cabins!
Check out all of our cabins in Gatlinburg TN today to plan your holiday getaway to the Smokies where you can enjoy the spectacular Christmas lights in Gatlinburg! We look forward to seeing you this holiday season!