5 Benefits of Staying in Our 2 Bedroom Cabins in Gatlinburg TN
The Smokies are the perfect destination for any vacation! With countless attractions, restaurants, and places to shop, you'll never experience a dull moment! After all the excitement, you'll want a comfortable place to relax, and our 2 bedroom cabins are the ideal choice. Here are 5 benefits of staying in our 2 bedroom cabins in Gatlinburg TN.
1. Added Space and Privacy
Staying in one of these cabins is so much better than being cramped in one bedroom at a hotel! You also don't have to worry about hearing strangers through the walls or outside your door. You and your family will feel right at home with plenty of comfortable spots to lounge and spend time together. The two separate bathrooms also provide more space for all of you to get ready in the mornings or before bed. Having a separate room is also nice when you want a little time to yourself to decompress after an exciting day of exploring the Smokies!
2. Fun Cabin Amenities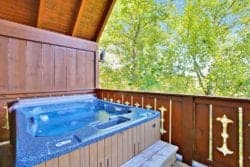 You and your family should definitely go out and experience all that the Smokies have to offer! However, if you run into bad weather or just want a little downtime, our 2 bedroom cabins in Gatlinburg TN offer plenty of ways for the family to stay entertained. Shoot some pool with the kids or take a relaxing soak in the hot tub. You can also curl up on the couch and watch a show or movie on one of the flat screen TVs. However you choose to pass the time in your cabin, it's sure to be an experience you'll always remember!
3. Bring Furry Friends
Pets are important members of the family and bring a whole new level of fun to vacations. So, bring them along for the adventure too! There are numerous benefits of staying in our pet-friendly cabins, not to mention that there are countless Smoky Mountain attractions that welcome pets. Your four-legged friends deserve to be included in these special trips, and now they can be!
4. Close to Popular Attractions
The Smokies are famous for their abundance of entertainment and attractions that are fun for all ages! From eating at popular restaurants to visiting the many attractions on the Parkway, there are tons of kid friendly things to do here. The best part is that you'll be only a short drive away from all the adventure this mountain town has to offer!
5. Save More Money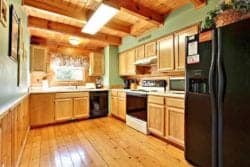 We want to help you get the most out of your trip for the best price possible, which is why all of our cabins are available at affordable rates. When you take advantage of our 2 bedroom cabins in Gatlinburg TN with fully equipped kitchens, you can avoid eating out for every meal, and save yourself a bunch of money! We also offer rentals that feature a washer and dryer so that you can skip the trips to the laundromat and save your loose change for other things.
Now that you know a little more about the benefits that come with these rentals, it's time to start planning your trip! Be sure to check out all of our 2 bedroom cabins in Gatlinburg TN to find the perfect place to stay while you're in town.