Top 5 Reasons Couples Love Our One Bedroom Cabins in Gatlinburg TN
If you are looking for the ultimate romantic destination in the Great Smoky Mountains, check out the one bedroom cabins from Smoky Mountain Chalet Rentals! Our beautiful cabins are situated in peaceful locations that are perfect for celebrating your anniversary, honeymoon, birthday or other special event! Here are the top 5 reasons why couples love staying in our one bedroom cabins in Gatlinburg TN:
1. Romantic Ambiance
There is so much romantic ambiance in our one bedroom cabins that you may never leave the cabin throughout your vacation! Each cabin features a wonderful fireplace that creates a soft amber glow throughout your cabin, and you can cuddle up by the fire. As if that doesn't sound good enough, our cabins also feature a bubbling hot tub on the deck where you can sit underneath the stars each evening!
2. Close to Downtown Gatlinburg
While our cabins are located in a quiet and secluded location among the mountains, they are still just minutes from the shops, restaurants and attractions of downtown Gatlinburg! This means that you can head into town to enjoy a romantic dinner for two or to share some laughs while playing a fun round of miniature golf. The downtown area can also be a pleasant place for an evening stroll as you hold hands and explore the many unique shops and specialty stores.
3. Fully Equipped Kitchens
Our one bedroom cabins in Gatlinburg TN feature fully equipped kitchens with every modern amenity imaginable, including a full-size refrigerator, stove, microwave and more! This means that you can enjoy a cozy dinner for two in the comfort of your own cabin. You can also prepare a hearty breakfast to surprise your sweetheart with breakfast in bed! As a bonus, the kitchen also helps to save you time and money from dining out each day during your vacation.
4. Beautiful Scenery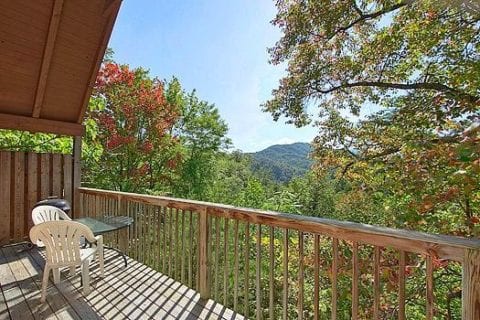 There is just something special about the Great Smoky Mountains that makes you feel completely relaxed. While there are plenty of activities to enjoy in Gatlinburg, some of your fondest vacation memories may be created simply by relaxing on your cabin's deck! Whether you want to catch up on the latest bestseller, listen to the sounds of nature or take an afternoon nap, you will love being outside among the fresh mountain air of the Smokies!
5. Affordable Rates
At Smoky Mountain Chalet Rentals, we want couples to enjoy a romantic vacation without spending a fortune! Therefore, we are pleased to offer our one bedroom cabins for an affordable rate where you can spend several nights or even a week or more! There is no need to stay in a hotel room when you can stay in a gorgeous cabin with fantastic amenities such as a flat-panel television, pool table and Jacuzzi tub! Come see for yourself why couples love staying in our cabins for a romantic getaway!
Check out all of our one bedroom cabins in Gatlinburg TN today to plan your romantic vacation to the Great Smoky Mountains! We hope to see you soon at Smoky Mountain Chalet Rentals!