6 Unique Restaurants in the Smoky Mountains
Dining out is one of the best parts of being on vacation! When you visit Tennessee's Smoky Mountains, you'll find hundreds of wonderful places to eat. With everything from old-fashioned Southern cooking to international cuisine, the Gatlinburg area truly has something for everyone. To help you make the most of your next getaway, we have put together a guide to 6 unique restaurants in the Smoky Mountains.
1. Smokies Cuban Cafe
Smokies Cuban Cafe is a hidden gem located in a strip mall on the Parkway. Visitors will enjoy authentic Cuban food, including empanadas, plantains, palomilla steak, and Cuban sandwiches. No meal at Smokies Cuban Cafe is complete without trying one of their delicious mango shakes!
2. The Old Mill Pottery House Cafe and Grille
The Old Mill Pottery House Cafe and Grille is a can't-miss destination for any vacation in the Smokies. Located steps away from The Old Mill, this restaurant uses the historic grist mill's freshly ground grain to bake delicious breads for their sandwiches and french toast. Everything at the Pottery House Cafe and Grille is homemade, even the plates and bowls!
3. Wild Plum Tea Room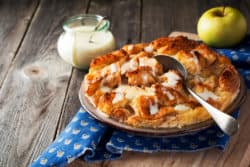 Located in the Great Smoky Arts & Crafts Community, the Wild Plum Tea Room is modeled after the tea houses in the mountains of Austria. Drawing on the freshest ingredients available, this cafe serves a number of dishes you don't see every day, such as baked salmon burgers, lobster pie, and amaretto bread pudding. It's easy to see why the Wild Plum Tea Room is one of the most unique restaurants in the Smoky Mountains!
4. Friendly Falls
Friendly Falls is the only eatery in the Smokies with its own waterfall! Visitors can take in spectacular views of the falls as they dine on smoked trout, pulled pork sandwiches, nachos, or another tasty treat. In addition to the excellent restaurant, Friendly Falls is also home to a craft store, gem mine, and light show.
5. Smoky Mountain Shakes-N-Dawgs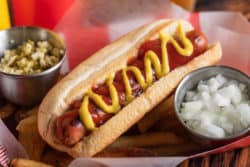 Smoky Mountain Shakes-N-Dawgs is famous for its creative hot dogs. Guests can try a hot dog marinated in moonshine, a hot dog fried in Cheez-It cracker crumbs, or a "pizza dawg" smothered in marinara sauce, mozzarella, and pepperoni. Smoky Mountain Shakes-N-Dawgs also offers incredible milkshakes made with Amish buttercream ice cream.
6. Mama's Farmhouse
If you're craving country cooking, you can't beat Mama's Farmhouse! All of the food at this restaurant is served family style with endless portions, so you'll definitely want to come hungry. Mama's makes all of the best Southern dishes, including fried chicken, honey-glazed ham, macaroni & cheese, sweet potato casserole, buttermilk biscuits, and banana pudding.
When you stay with Smoky Mountain Chalet Rentals, you will be near all of these unique restaurants in the Smoky Mountains. Our cabins come with your choice of awesome amenities, including mountain views, Jacuzzi tubs, full kitchens, pool tables, flat screen TVs, and even more great features. To start planning your vacation, browse our selection of cabin rentals in the Smoky Mountains!