5 of the Best Places to Eat in Gatlinburg Along the Strip
You may be overwhelmed with all the restaurant selections in Gatlinburg when you get hungry. There are so many great places to eat in Gatlinburg, but we want to help you know where to start! Check out 5 of the best places to eat in Gatlinburg along the strip:
1. Calhoun's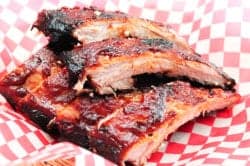 Want to eat a place that's better than fast food but is still family friendly? Calhoun's is a great place to take the family or your group of friends! This place has everything you love: barbeque, steak, and so much more! The baby back ribs are so tender they fall off the bone, and the barbeque sauce is delicious. The ale steak has amazing flavor since it is served with herbed butter on top. And you can't go wrong with spinach maria and corn pudding as your sides. Plus, Calhoun's as a huge selection of drinks you'll love, from your favorite beer to a new cocktail you'll want to try.
2. Pancake Pantry
Are you going to be in Gatlinburg for breakfast? One of the best places to eat in Gatlinburg is the Pancake Pantry. Obviously you have to try one of their pancake dishes. The silver dollars are the perfect size for kids or adults who are kids at heart. If you prefer something fruity, the wildberry crepes or peach delight pancakes are great. The Pancake Pantry also has waffles, eggs cooked to order, ham, bacon, sausage, grits, biscuits, and omelets. You can also get lunch at the Pancake Pantry, from salads to sandwiches.
3. The Peddler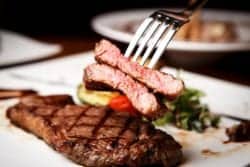 Want to go on a romantic date with your significant other? Take them to The Peddler! They have just about anything you could want, from trout to steak. All entrees come with the salad bar, which is full of your favorite toppings. You can get blackened chicken, grilled shrimp, or a combination dish if you really can't decide between two proteins! When you eat at The Peddler, you'll want to save room for dessert. Some of the choices include hot blackberry cobbler, peanut butter mud pie, and kahlua creme brulee. If you love wine, this is the one of the best places to eat in Gatlinburg for you! The Peddler has a huge wine selection. If you love steak, check out these other steakhouses in Gatlinburg!
4. New Orleans Sandwich Company
Looking for a place that's casual but packed with flavor? Head to the New Orleans Sandwich Company. You'll find your classic cajun favorites, from shrimp po boys to delicious gumbo. There's also jambalaya, muffalettas, and etouffee. The owner is from New Orleans, so you're getting the real deal with it comes to authentic cajun food! Once you have a bite of this food, you won't want to go anywhere else!
5. Best Italian Cafe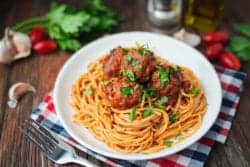 Craving Italian food? Then you have to eat at the Best Italian Cafe! There are so many pasta options, from fettuccine alfredo to eggplant parmesan to a seafood medley. You'll also find lasagna and traditional spaghetti and meatballs. If you don't want pasta, there are plenty of other entrees you'll enjoy, from steak to chicken to fish. Best Italian also has pizza you can share with everyone!
There are just some of the best places to eat in Gatlinburg! Want to know about other great restaurants in Gatlinburg? Look at these places to eat in Gatlinburg!